Mazda Wins Three Car Of The Year Awards From AJAC
January 08 2019, Western Mazda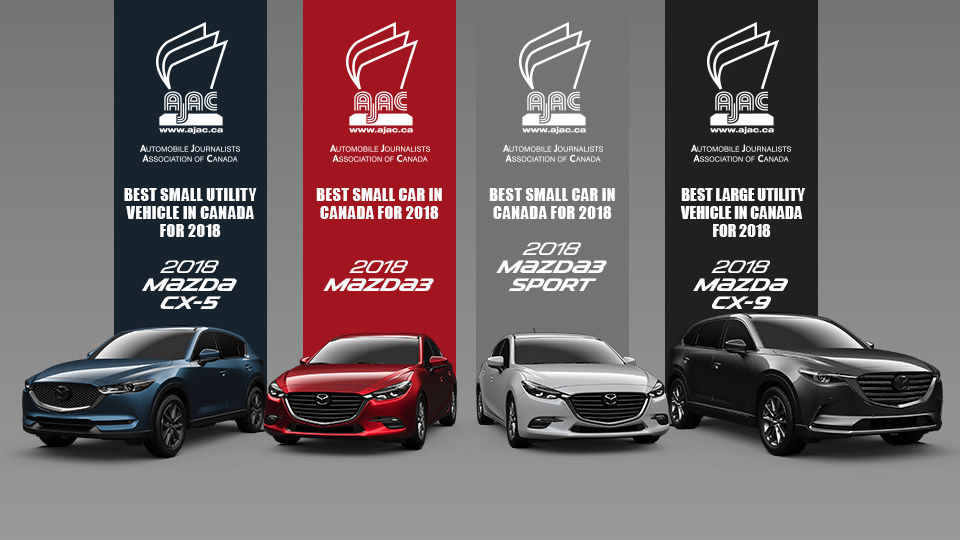 The Automobile Journalists Association of Canada (AJAC) announced today that four Mazda Vehicles have been awarded three Car of the Year Awards.
The AJAC awards are some of Canada's most sought-after automotive awards, based on sound, objective, comparative data that helps Canadians make informed buying decisions.
The winners are:
2018 Mazda3 + Mazda3 Sport - Best Small Car in Canada for 2018
2018 Mazda CX-5 - Best Small Utility Vehicle (SUV) in Canada for 2018
2018 Mazda CX-9 - Best Large Utility Vehicle in Canada for 2018
The 2018 editions of the MAZDA3, MAZDA3 Sport, CX-5 and CX-9 all come with cutting-edge technology, like G-Vectoring Control, which won the 2017 AJAC award for Best New Innovation Technology and i-ACTIVSENSE safety technology.
Plus 2018 models have made great strides in making every drive a great drive. Reducing Noise, Vibration and Harshness (NVH) for a smoother ride, fine-tuning our groundbreaking SKYACTIV TECHNOLOGY for even better responsiveness and handling, enhancing interior features and evolving our stunning KODO design aesthetics all work together to create vehicles that are a joy to drive.
We are so proud to receive these honours. Three awards across four nameplates recognize the consistent quality across the Mazda lineup. The awards are a testament to the dedication and craftsmanship that go into every vehicle we make.
At the heart of every idea, concept and realization of a Mazda vehicle is a passion for driving – for that connected-to-the-road feeling that creates anticipation for the road ahead while keeping drivers fully engaged both tactically and emotionally.
Recognition of our passion and craftsmanship is also a recognition of our belief that Driving Matters.
Thank you AJAC!