Mazda3 Vs. Honda Civic: A Surprising New Mazda - Driving Matters
January 08 2019, Western Mazda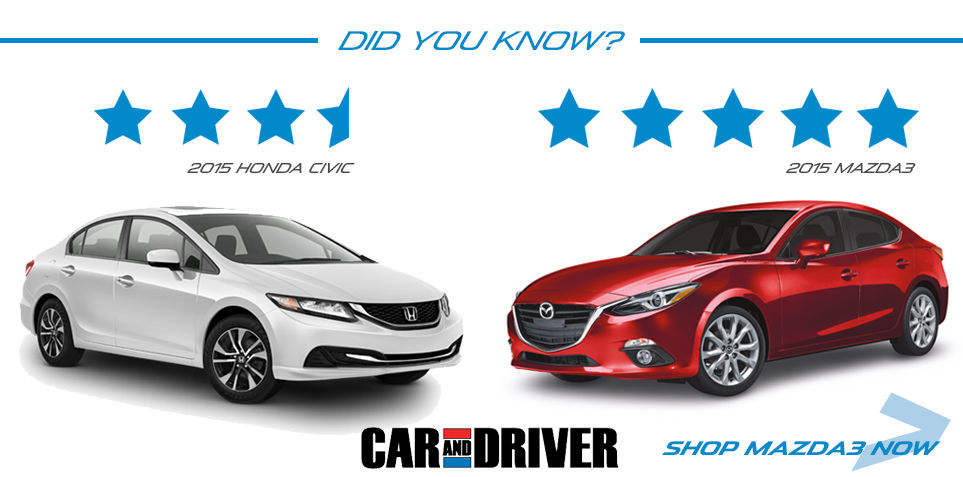 Long-standing is the notion that brands like Honda and Toyota lead the pack with quality and innovation. Mazda is challenging that premise with all new engineering from the ground up. That diligence is being recognized in a couple of ways. First, our customers are happier with their vehicles than they've ever been. Secondly, other manufacturers are starting to adopt some of our technology. Recently, Toyota entered into an agreement with Mazda to use the SkyActiv technology we pioneered in some of their new vehicles, the next Yaris will be the first. (You can learn more about SkyActiv Technology here)
Finally, the third party, independent reviews are continuing to substantiate the reinvention of the Mazda brand. The 2015 Mazda3 comes out with a 5 star review according to Car and Driver and made the top of their 10Best list for the second year in a row (the Mazda6 made the top, too. Even after the long-term road update, the Mazda3 Traditionally class-leading models like the Honda Civic came out with just 3.5 stars. The Corolla had the same fate.
"Packed with clever details, driving satisfaction, and style, the 3 is magnificent." - Car and Driver
Some significant takeaways are the first feedback items on the Civic, "The Civic's fuel efficiency, attractive cabin, and smooth ride aren't enough to make up for lazy handling and largely dull performance." compared to the enthusiastic feedback on the Mazda3, "The Mazda 3 proves that economical, fuel-efficient cars need not be dull to look at or to drive—and these are just a couple of the many reasons we named it to our 10Best list for 2015."
Now, this isn't all a put-down of the competition. The Honda Civic (and the Corolla) lead the Compact Car segment for many years and is a benchmark in quality and performance for that reason. They are still good cars! But with a complete redesign of the Mazda3, including industry-leading SkyActiv technology that gives truly outstanding fuel efficiency - it has become hard to justify purchasing a vehicle that was once the benchmark without even trying one that is top rated by professionals for aesthetics, driving experience and value (in short and long-term reviews) and up to 15% more fuel efficient (think 15% off at the pump!).
If you're considering purchasing a sedan, please consider Mazda. If you haven't driven a Mazda lately, you haven't driven a Mazda at all. And at Western Mazda - You Matter.